Specifications
Photos
Videos
Installations
Infinifeed Loop
Continuous feed loop system
PRODUCT INFO

Continuous feed loop system
Capacities available up to 1,800 BPH (2200 CFPH)
Quiet operation with benefits of traditional chain conveyor
Modular design – customize for your needs
Available in lengths up to 127 feet
Easy integration into existing installations
Enjoy the benefits of low horsepower requirements and minimal long term maintenance as compared to a traditional auger system.
Capacities

INFINIFEED LOOP 

Double hopper inlet, center of room:
1,800 BPH/2200 CFPH 
(62,300 Cubic Liters per Hour)

INLET HOPPERS

Double inlet hopper:
Standard: 10.85 cubic feet / 307 liters
Large: 29.25 cubic feet / 828 liters

Hopper extension, 12 inch tall:
Standard: 4.75 cubic feet / 134 liters
Large: 12.25 cubic feet / 346 liters
FEATURES & BENEFITS

Single drive
Quiet operation
Modular installation
Up to 127 feet in length
Operates in a continuous loop
10 foot trunking sections
High strength chain
OPTIONS

Traditional or double drop discharges
High-strength magnet at discharge points
Hopper extension, 12 inches tall
Companion Equipment

Connect the Infinifeed Loop to your bulk feed bins with a low-profile chain conveyor and inclined Double Barrel, both from Sudenga, for a low maintenance set up. Visit with us about all of your grain, feed, and seed handling equipment needs.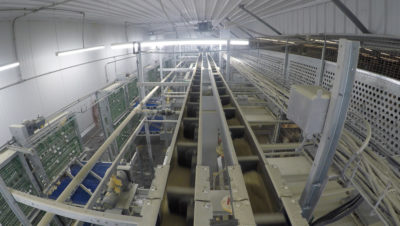 Check out this poultry barn featuring Sudenga's Infinifeed Loop System along with a Double Barrel and Horizontal Chain Conveyor.
Read More