Specifications
Photos
Installations
Liberator III Hammer Mill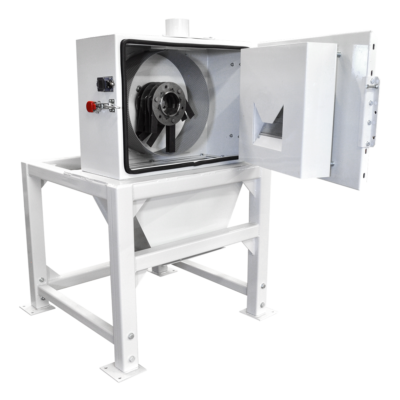 General

An integral part of any feed production system is a reliable and low maintenance mill. Varying screen size attains proper particle size and varying motor horsepower ensures the Liberator Series mill fits the capacity needs of the job. Sudenga's hammer mills are available with various feed and discharge formats to fit most applications.
Standard Features

6″ x 18″ (15.2 x 45.7 cm) diameter full circle grinding chamber.
Direct drive hub assembly with 15 hammers.
7-1/2 to 30 HP motors.
Bottom or center feed doors available. Center feed doors provide longer hammer life and more uniform particle size.
Heavy-duty plate magnets that keep metal out of the hammers and feed.
Feed inlets are 4″ (10.2 cm) or 6″ (15.2 cm) diameter; discharge can be left or right hand.
Grinding Capacities

The chart below shows average grinding capacities for the Liberator III hammer mill.  Due to differences in moisture content, electrical voltages, and foreign material, Sudenga does not guarantee performances at these levels. Actual capacities maybe higher or lower than indicated by the following chart.
Specifications & Base Options

Sudenga's hammer mills are available in four different configurations.

Telescopic legs
Horizontal base, low-profile
Horizontal base, high-profile
45 degree
Benefits of a Hammermill

The primary function of a hammer mill in a feed mill setting is to reduce the size of the raw materials, such as corn, wheat, and soybeans, into smaller pieces. This makes the material easier to handle and mix with other ingredients in the feed mill. The hammermill consists of a rotating shaft with a series of hammers attached to it. As the shaft rotates, the hammers strike the raw material, breaking it into smaller pieces. The size of the final product can be controlled by adjusting the spacing between the hammers and the screen. Ask about equipping your hammer mill with a mixing chamber to allow for the blending of different ingredients to create a uniform feed mixture.

Here are a few more ways you can benefit of a hammer mill:

Efficient size reduction: A hammer mill can quickly and efficiently reduce the size of raw materials used in animal feed, making them easier to handle and process. This can lead to increased throughput and improved efficiency in the feed mill.
Improved feed quality: Hammer mills can help to create a more uniform feed product, ensuring that animals receive the appropriate nutrients and reducing the risk of digestive issues or health problems.
Versatility: Hammer mills can process a wide range of raw materials, including grains, cereals, and other agricultural products, making them a versatile tool in the feed mill.
Reduced waste: By grinding and processing raw materials more efficiently, a hammer mill can help to reduce waste in the feed mill, which can lead to cost savings.
Lower energy consumption: Hammer mills typically use less energy than other types of milling equipment, which can lead to lower operating costs over time.

Overall, hammer mills are an efficient way to process and mix raw materials into a uniform feed product for livestock. It is a key piece of equipment that helps to ensure the quality and consistency of animal feed. Connect with a Sudenga expert today.
Hammer Mill Skid
Single or Double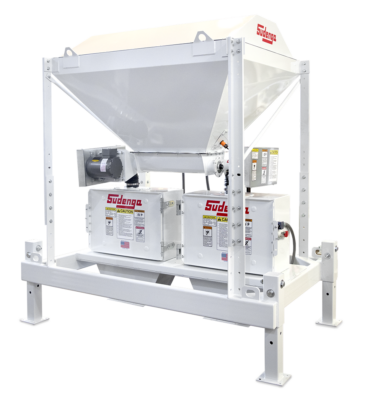 General Info

Sudenga's double hammer mill skid creates a high capacity grinding solution with an automated start and stop function. A controlled flow-rate for the hammer mills and auto level-sensing that allows this system to call for more grain once the surge levels get low will keep your operation moving. Also available as a single hammer mill skid.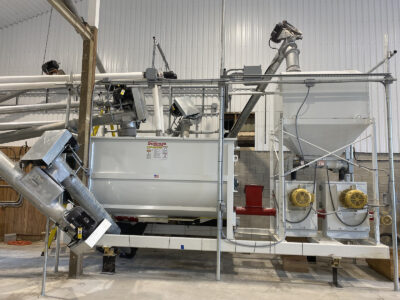 This feed room install from features a complete Sudenga feed batching system. This skid includes a two ton mixer with a pair of 25 hp hammer mill's and a surge hopper with supporting augers.
Read More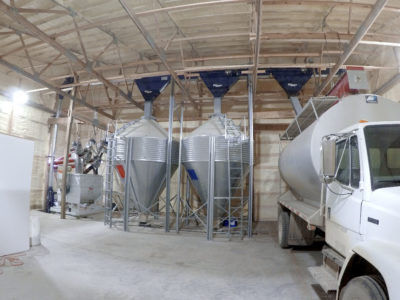 Check out this farmer-operated feed mill setup. From a hammermill to a horizontal mixer to Sudenga's feed loop conveyor system, this site has it all.
Read More