Specifications
Photos
Videos
Installations
CMS-2020 Commercial Micro Skid
NTEP Lab Certified Gain-in-Weight Micro Skid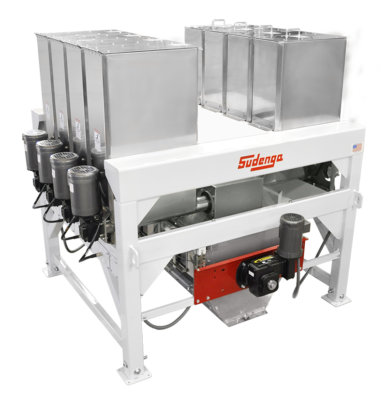 Product Overview

Sudenga's CMS-2020 commercial micro ingredient system in a NTEP lab certified skid that allows you to accurately measure and deliver small quantities of ingredients to a mixing system. Here are just some of the benefits of using a commercial micro ingredient system:

Increased accuracy: Our skids are designed to accurately measure and deliver very small quantities of ingredients, which is essential for ensuring consistent feed quality and preventing over- or under-dosing.
Improved efficiency: By automating your process of measuring and delivering micro-ingredients, you can streamline your feed manufacturing process, reducing the time and labor required to prepare feed batches.
Reduced waste: Minimize your waste by ensuring that the correct amount of each ingredient is added to each batch of feed.
Greater flexibility: Our micro-ingredient skids can be customized to meet the needs of your feed mill
Improved safety: By automating the handling of all micro-ingredients, you can reduce the risk of exposure to hazardous substances.

Overall, the use of a commercial micro ingredient skid can help to improve feed quality, increase efficiency, and reduce waste and safety risks in the animal feed manufacturing process. Contact us today to learn more!
Standard features

The only NTEP Lab Certified gain-in-weight system in the country.
Easy integration with existing feed mill systems
Cost effective solutions for micro ingredient management
Various bin sizes available – 3.0 cubic ft. (85 liters),  6.0 cubic ft. (170 liters), 8.0 cubic ft. (227 liters), and 10 cubic ft. (284 liters).
Center walk-through aisle.
Standard ¾ HP TEFC motors.
Carbon steel frame with tough epoxy finish over durable primer.
High accuracy NTEP approved "S" style loadcells and summing junction box.
To minimize bridging the micro bins are designed with three vertical sides, chamfered corners, and a large conveyor discharge opening.
20:1 ratio gearboxes standard.
English/metric measuring tape in each bin.
Standard pneumatic rotating drum.
Optional features

Mechanical agitator for individual bins.
Individual bin interlock switch to be used in locking individual bins with hinged lids with solenoid release.
Individual bin dust collection hood.
NTEP certified scale system with certified scaling vessel.
Hinged micro bin lids.
1 HP, 1.5 HP, 2 HP, and 3 HP motors.
10:1 ratio gearbox and 5:1 ration gearbox.
Class II, Division I motors. (Explosion proof)
Individual micro bin high/low level sensors for filling micro bins from another source.
Three point individual FDA hoppers for inventor control or reconciling.
Individual micro bin inlets for filling micro bins from a bulk container.
Electrical rotating drum.
Rotating Drum

Rotating drum is enclosed in a stainless steel shroud.  The shroud is bolt together for easy service.
20" (50.8 cm) Rotating drum is rotated with standard pneumatic actuator or optional electric motor with gearbox.
24" (61.0 cm) rotating drum is rotated with electric motor with gearbox. (Pneumatic not available)
CMS-4020 Commercial Micro Skid
Gain-in-weight skid with a traveling scale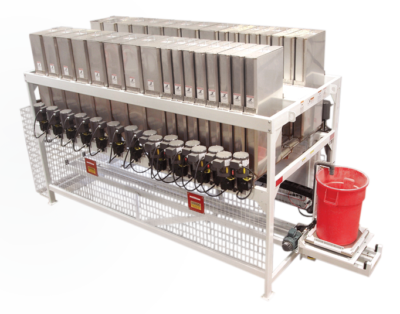 Product Overview

Scaled bucket systems – this micro skid system comes with a computerized traveling scale for weighting micro ingredients
S-2000 Standard-Duty Micro Skid
Farm-duty micro skid solution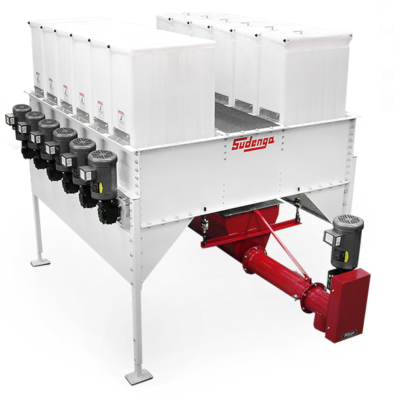 Product Overview

Sudenga's standard-duty micro skid offers cost-effective solutions for micro management and can be easily integrated in existing feed mill systems. Up to 24 six-cubic-foot hoppers available. Systems provide accuracy to within two one-hundredths of a pound.
Standard Features

NTEP approved "S" style load cells
Stainless steel flush hopper (gate optional) reduces cross contamination between formulations
Ribbed poly bin for strength and rigidity. Available in poly or stainless steel. Sizes 3 cu. ft. (85 liters) or 6 cu. ft (170 liters). Custom sizes available in stainless steel bins
Maintenance free UHMW end bearings on micro hopper discharge auger
Center walk-through aisles
VFD controls for high and low speed motor settings
Half pitch flighting in bin intake and double full pitch flighting on discharge end assures consistent material flow. Available in carbon or stainless steel
CMS-2020 Commercial Micro Skid Features
Ken Brunsting, the Feed Mill Manager at the Hull Coop in Hull, Iowa, explains the benefits of using a Micro Skid.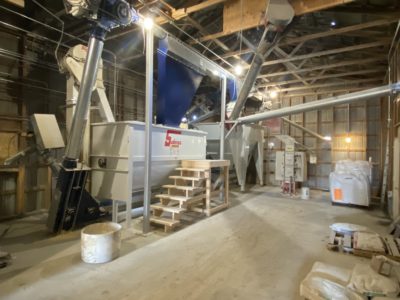 Check out this Lismore, MN farm site featuring a painted feed leg, micro skid, weigh hopper, mixer, tote bag system, and loop system.
Read More