Specifications
Photos
Videos
Loss-In-Weight Micro Systems
NTEP certified systems available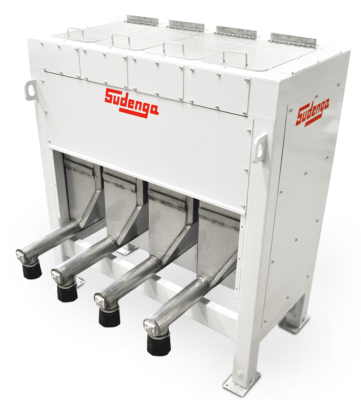 GENERAL

Loss-In-Weight Micro Systems gives you the fastest, most efficient, accurate batching possible because all ingredients are weighed and added automatically. No drugs or additives are handled manually with the Loss-In-Weight system.

• Decreased Batching Time – All ingredients are weighed and added simultaneously.
• Inventory Accuracy – Continuous inventory is monitored quickly, efficiently, and accurately.
• Lower Installation Height – Less space required than conventional micro systems for more design and installation flexibility.
STANDARD FEATURES

Micro bin drive assembly: Gearbox and motor drive assembly can be rotated either in the up or down position. Removing the auger, motor, and gearbox assembly for maintenance or cleaning is quick as one, two, and three! (1) Unplug the motor, (2) remove four bolts holding gearbox bracket, and (3) pull whole assembly out.

Micro hopper discharge: UHMW bearing on the micro hopper discharge end, provides lubrication free and maintenance free operation. Flexible spouting from the micro hopper to the drum housing provides a dust free environment, along with the ability to adapt any hopper on the micro skid with an individual bin weighing system. To assure long and maintenance free life, both ends of the screw conveyor are supported by bearings. The micro bins come standard with half pitch flighting in the bin area and a double full pitch flighting in the feeder auger discharge. The half pitch flighting insures a consistent flow of difficult to handle material from each bin. The double pitch flighting on the discharge end protects against ingredient free flowing after the feeder auger has stopped.

VFD and PLC Panel: Interfaces with most batching controllers. Allows the operator to select individual high and low speed setting for each micro bin conveyor. Detects equipment failure and batching interlocks. Voltages available: 230 VAC, 3 Phase, 60 Hz (Standard); 460 VAC, 3 Phase, 60 Hz ; 380 VAC, 3 Phase, 50 Hz;  575 VAC, 3 Phase, 60 Hz.

NTEP approved "S" style load cells with summing junction box
6,8 and 10 cubic foot capacity hoppers available
Up to 24 bins available per system
Center walk-through aisles
Stainless steel bin construction
Mild steel frame with tough epoxy finish over durable primer
English/Metric measuring tape in each bin
TEFC 3/4 HP motors
Micro bin lids are designed to swing open (like a hinged lid) or to be lifted off completely
Micro bins have: three vertical sides, chamfered corners, and a large conveyor discharge opening (minimizes bridging)
Off the shelf purchase components make parts readily available.
OPTIONS

Rotating drum or funnel hoppers available
Individual weighing hopper to monitor FDA restricted drugs
TEFC 1 HP motors
Explosion proof 3.4 or 1 HP motors
Polyethylene bins
Teflon coated feeder augers
Stainless steel support frame and motor control panel
Drop-through frame, floor level design
Inlet hoppers for filling micro bins from a bulk container
Individual micro bin sensor for filling bins from a bulk source