Originally developed to feed bucket elevators from shallow drive over pits, thousands of applications later these units can be found loading out to semi-trailers or returning grain to the leg from a low clearance loadout. Interchangeable hopper gratings and bridge sections allow for custom intake configurations.

Eliminate water problems common in pit installations. The 16" (2610), 19" (4012), or 26" (4019) deep trench is open at both ends for drainage.
Unloading rates from 3000 to 17,500 BPH.
Modular design for variable lengths and discharge heights.
Cover and grate sections for the "drive over"
area are available in various lengths to accommodate various width trenches.
Model 4019
UP TO 17,500 BPH
STANDARD FEATURES

12,500, 15,000 and 17,500 BPH unloading rates
10 ga. galv. trunking housing with 7 ga. dividers
22.5° & 45° elbow and head sections
14" x 14" and 16" x 16" discharge reducer
Double 81XHH chain with polyethylene paddles
Outboard mounted pillow block bearings with dust seals
21" deck height
Modular sections available in 1', 2', 3', 5' and 10' lengths.
Conveyors require a trough 48" wide and 26" deep. Trench can be left open at ends for drainage.
Combination heavy gauge galvanized and painted trunking sections.
Painted head, curves and tail sections. (Standard paint color is blue)
Commercial duty shaft mount gear reducer
Heavy duty head and tail sprockets on turned ground and polished shafts
Head mounted inspection/overflow panel
Intake grates and solid drive over covers can be repositioned for full width, center or side discharge situations. Grates and bridges available in 24" x 32", 12" x 48", 24" x 48".

   

Gated grates and flow restrictor pans available
Model 4012
Up to 10,000 BPH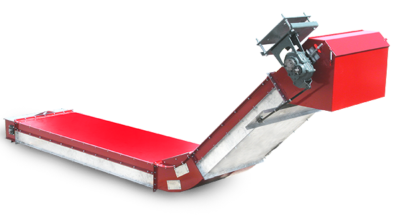 STANDARD FEATURES

5000, 7000 and 10,000 BPH unloading rates
10 ga. galv. trunking housing
22.5°, 45° & 60° elbow and head sections
Discharge opening 21" x 40" or 12" x 24" reducer
Double 81X chain with polyethylene paddles
14" deck height
Modular sections available in 1', 2', 5' and 10' lengths.
Conveyors require a trough 48" wide and 19" deep. Trench can be left open at ends for drainage.
Combination heavy gauge galvanized and painted trunking sections.
Painted head, curves and tail sections. (Standard paint color is blue)
Commercial duty shaft mount gear reducer
Heavy duty head and tail sprockets on turned ground and polished shafts
Head mounted inspection/overflow panel
Intake grates and solid drive over covers can be repositioned for full width, center or side discharge situations. Grates and bridges available in 24" x 32", 12" x 48", 24" x 48".

   

Gated grates and flow restrictor pans available
Model 2610
Up to 7,000 BPH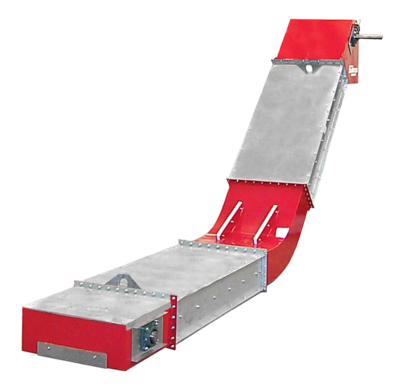 STANDARD FEATURES

3000, 5000 and 7000 BPH unloading rates
10 ga. galv. trunking housing
22.5°, 45° & 60° elbow and head sections
12" x 12" discharge reducer
Single or double 81X chain configurations with polyethylene paddles
11.5" deck height
Modular sections available in 1', 2', 5' and 10' lengths.
Conveyors require a trough 32" wide and 16" deep. Trench can be left open at ends for drainage.
Combination heavy gauge galvanized and painted trunking sections.
Painted head, curves and tail sections. (Standard paint color is blue)
Commercial duty shaft mount gear reducer
Heavy duty head and tail sprockets on turned ground and polished shafts
Head mounted inspection/overflow panel
Intake grates and solid drive over covers can be repositioned for full width, center or side discharge situations. Grates and bridges available in 24" x 32", 12" x 48", 24" x 48".

   

Gated grates and flow restrictor pans available