8" Seed Belt Conveyor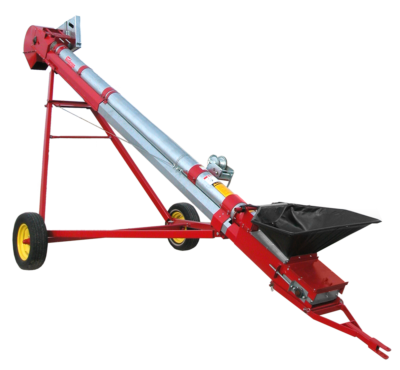 General Info

Cleated belt conveyors are a sound choice for any general conveying use, but have been proven to be uniquely suited for seed treating applications. Cleated conveyors offer the gentle handling of a traditional belt conveyor, but offer better capacity retention at increasing incline angles. The patented cleated belt design forms a cup inside the tube as the material is being conveyed which prevents material fall back, while gently carrying the seed up the incline.
Standard Features

Available in 17, 21, 25, and 32 ft. lengths.
Spout for gentle transition from the incline belt to the discharge.
Top and bottom adjustments for belt tension and tracking.
Cleated belting moves seed quickly and gently.
Steel intake.
Capacities

| Elevation | Soybeans |
| --- | --- |
| 30 Degree | 2,000 BPH |

Capacity is at approx. 400 FPM belt speed and will vary with material type and conveyor incline. Consult your seed dealer for belt speed recommendations. Hydraulic drive allows a wide range of belt speeds.
Specifications

Tube: 14 ga. galvanized 8" tube with stan-dard wind skirt for belt return.
Belting: 12" PVC belt with 1½ x 7" cleats spaced on 6" centers. Vulcanized drive roller; self cleaning bottom roller; top and bottom SCM bearings for belt tension and tracking.
Drive: 5 HP electric or 6.2 CID hydraulic drive.
Transport: Timken roller bearings for road use.  2" x 3" lower arms, 2" x 4" upper arms.  80" transport width.

Auger Length
17′
21′
25′
32′
A – Elevation
9′
11'6″
13'6″
16'6″
B – Distance
16'6″
19'8″
23'6″
29'6″
C – Height
7′
9'9″
9'9″
13′
D – Reach
2'8″
4'8″
6′
6'6″
Options

Optional folding intake: Allows the conveyor to reach low clearance seed outlets in trucks, wagons, etc. When the conveyor is in position, the intake is raised, minimizing spillage.