Bulk Seed Loadout Tank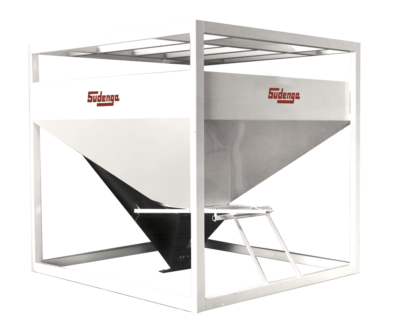 General Info

Fill wagons and trucks from the tank with only 6 feet of lift required to position seed bags. 

Store up to 2,500 pounds of bulk seed indoors and gently convey into trucks or wagons with a belt conveyor, poly cup or steel core bristle flight auger. This hopper incorporates a clever upper grid structure so bulk seed bags or boxes can be placed above the hopper and be gravity fed into the tank to stage the next batch while the hopper is unloading.

The bag is lifted onto the tank and seed is gravity fed into it. The optional 6″ or 8″ x 25′ unloading auger conveys the seed outside to trucks, wagons, etc.
Standard Features

2500 lb. (56# cu. ft.) seed capacity
Steel core bristle or poly cup auger gently handles seed
6" or 8" auger sizes available
Belt conveyor or poly cup auger options available
Electric or hydraulic drive.
Specifications

Tank:
12 ga. steel construction
2" x 3" tube frame
Gridded bag platform

Augers:
25′ steel core bristle flight auger
14 ga. tube
10 ga. flight on 1½" pipe (6" auger)
3/16" flight on 1.9" pipe (8" auger)
30° auger tube incline
Discharge height of 10′ -11′

Drive:
Electric or hydraulic

Power Requirements
Electric
Hydraulic
6″ Auger
3 HP
"H" Series 6.2 CID
8″ Auger
7-1/2 HP
"H" Series 6.2 CID