12" Seed Belt Conveyor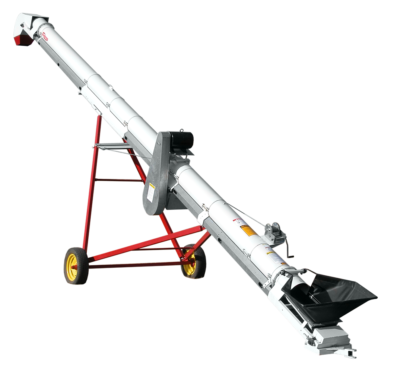 General Info

The way to gently handle seed, fertilizer or any other free flowing commodity. Hydraulic, electric, PTO and Gas over Hydraulic drives are available. Lengths from 25 to 70′ in 5′ increments. Also available without the transport for use in stationary applications. Add an undercar belt hopper or low-profile feeder hopper for easily unloading trucks or railcars.
Standard Features

Available in 25′ to 70′ lengths. (In 5′ increments)
Top and bottom adjustment for belt tension and tracking.
Belt conveyor provides rapid, gentle transfer of seed.
Hopper options for gravity wagons or seed hopper tanks.
Spout made for gentle transition from the incline belt to the discharge.
Three conveyor belt speeds let you match the delivery rate to your requirements.
Capacities

Capacities (Electric Drive)
Elevation
Belt Speed
400 FPM
675 FPM
900 FPM
25°
3,200 BPH
(4,000 CFH)
4,275 BPH
(5,340 CFH)
4,960 BPH
(6,200 CFH)
30°
2,400 BPH
(3,000 CFH)
3,000 BPH
(3,700 CFH)
3,230 BPH
(4,000 CFH)

NOTE: Capacities are approximates, for conveying soybeans, and will vary with material conveyed and conveyor incline.
Specifications

Tube: 12 ga. welded 12" tube with standard wind skirt for belt return. (stainless steel optional)
Belting: 14" PVC belt with crescent top surface. Vulcanized drive roller; self cleaning bottom roller; top and bottom SCM bearings for belt tension and tracking. "S" wrap style drive.
Drive: PTO, electric, hydraulic, or gas over hydraulic drive options. Electric drive – 400, 675, or 900 FPM belt speed. Jackshaft drive.
Spout: Spout opening is 14¼" x 15¼".
Transport: Timken roller bearings for highway use. 2" x 3" lower arms and 2" x 4" upper arms. 80" width (30-45' conveyors) or 108" (50-70' conveyors).

Belt Speed Conversions
Electric
Hydraulic
PTO
400 FPM
5.3 GPM*
122 RPM
675 FPM
8.9 GPM*
206 RPM
900 FPM
11.9 GPM*
275 RPM

* Requires 2250 PSI.

NOTE: The capacity chart used electric drive. The conversion chart shows hydraulic flow rates and PTO speeds needed to match belt speeds with electric drive.

Recommended Horsepower (Electric drive)
Conveyor Length
 Belt Speed
400 FPM
675 FPM
900 FPM
25′
5
7½
10
30′
5
7½
10
35′
5
10
10
40′
7½
10
15
45′
7½
10
15
50′
7½
15
15
55′
7½
15
20
60′
10
15
20
65′
10
15
20
70′
10
20
20
Reach and Elevation

Reach and Elevation (30° incline)
Conveyor Length
A – Elevation
B – Distance
C – Height
D – Reach
25′
12½'
24′
9
6½'
30′
15′
28½'
9½'
10′
35′
17½'
33′
10′
14′
40′
20′
37′
13′
13′
45′
22½'
41½'
15½'
13′
50′
25′
46′
16′
17′
55′
27½'
50′
18′
17½'
60′
30′
54½'
18′
21½'
65′
32½'
59′
20′
22½'
70′
35′
63′
20′
26½'
Options

Optional spring loaded hopper: The hopper folds down to get under gravity wagons, trailers, etc., and then raises to minimize spillage.
Feeder hoppers: Available in 6′, 9′, and 12′ lengths. Low-profile receiving.
PTO, electric, hydraulic and gas over hydraulic drive.
Stainless steel construction (contact factory)