SUDENGA RETURNS TO IN-PERSON SHOWS
After almost a year off due to the cancellation of numerous agricultural industry shows during Covid, Sudenga Industries, Inc. of George, Iowa is set to return to in-person exhibitions for winter 2021 and 2022.
"The 2021 fall shows we've attended have been a bit different as we all get used to a new in-person experience, post-Covid," said Sudenga Vice President Greg Ver Steeg, "but we have heard from numerous show managers that they expect to be in-person this winter, and attendance should be strong after so much time off from trade shows during 2020 and 2021."
November 30 through December 2, 2021, Sudenga Industries will be exhibiting at the Peoria Farm Show in Peoria, IL. You can find Sudenga in booth H0805. Products focused on at this show include power sweeps and grain bin unloading equipment, bucket elevators, drag conveyors and OX Series portable augers.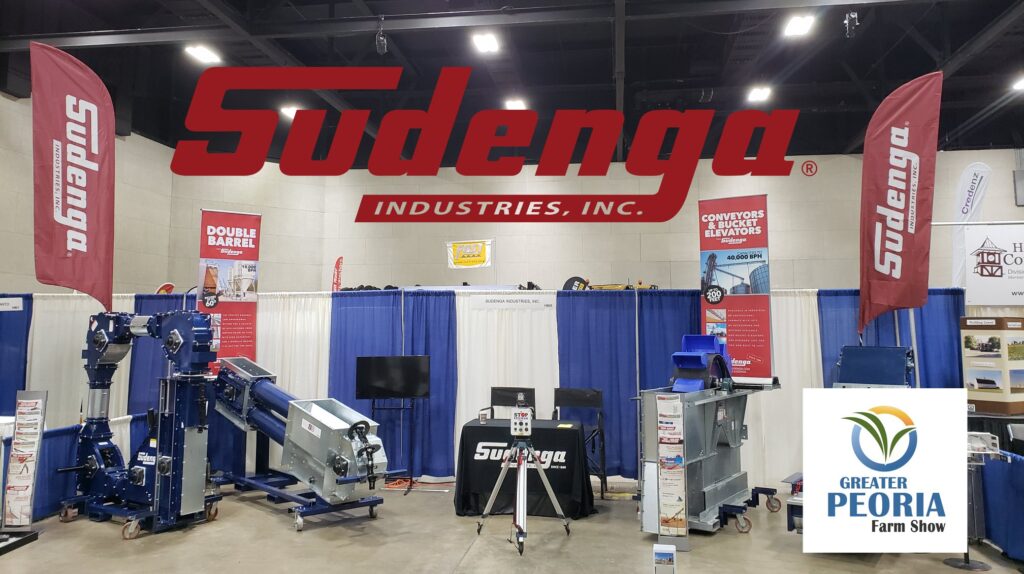 Nebraska Ag Expo will be held December 7-9th, 2021 in Lincoln, Nebraska. Samples of Sudenga bin sweeps, elevator legs, conveyors and portable grain handling equipment can be seen in booth 900.
January and February 2022 ushers in several trade shows focused on the livestock feed industry. Sudenga Mill Systems, including micro ingredient systems, feed batching software, roller mills and horizontal feed mixers can be discussed with Sudenga representatives at South Dakota Pork Congress (January 12-13), Iowa Pork Congress (January 26-27), International Production and Processing Expo (January 25-27), and Minnesota Pork Congress (February 15-16).
If your plans are to attend the Sioux Falls Farm Show (January 26-28), Iowa Ag Expo (February 1-3) or Minnesota Grain & Feed Association's 115th Annual Convention & Trade Show (Mar 6-8), be sure to stop and discuss your latest grain or feed handling project with Sudenga's sales and engineering staff. Sudenga will feature samples of their bucket elevators, low profile conveyors, commercial grain bin sweeps, power sweeps, and Sudenga stationary & portable augers and conveyors.
Sudenga Industries looks forward to seeing you at these upcoming winter shows!