Series 1 Bin Sweep Auger
Commercial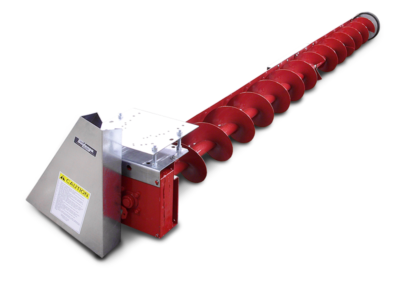 PRODUCT DETAILS

Sudenga's Series 1 sweep augers are the economical workhorse of our line of commercial bin augers. Sudenga's 7-1/4 inch sweeps handle up to 2,050 bushels per hour; 9-1/4 inch sweeps handle up to 3,700 bushels per hour and 11-1/4 inch handle up to 5,900 bushels per hour. Sweeps available for bins up to 80 feet in diameter. Reduction end wheels, motorized push tractors and sweep controls available as options.
Specifications

| Flight Diameter | Flight Ga. | Flight Pipe | Flight Shaft |
| --- | --- | --- | --- |
| 7.25″ | 3/16″ | 2 1/2″ | 1 1/4″ |
| 9.25″ | 1/4″ | 2 7/8″ | 1 1/2″ |
| 11.25″ | 1/4″ | 2 7/8″ | 1 1/2″ |
Capactites

| Sweep Diameter | Approx. Capacities |
| --- | --- |
| 7.25″ | To 2,050 BPH |
| 9.25″ | To 3,700 BPH |
| 11.25″ | To 5,900 BPH |

*Dependent on RPM and material characteristics
Options

TRACTOR DRIVE: Ideally suited to replace mechanical reduction end wheels or sweep walkers. Provides more control over advancement of the sweep from outside the bin. Great for upgrading existing sweeps to a more "zero-entry" complaint form. The 3/4 HP explosion proof motor, oil-bath worm gear reducer drive, and 4.8"/4.0" tires provide positive, aggressive sweep movement. Eight suitcase weights are provided, with room for many more. Order with the optional, but recommended Auto Advance to control movement from outside. Fits Sudenga commercial sweeps and many other manufacturer's commercial sweeps.

REDUCTION DRIVE WHEEL: Less wheel spin and longer wheel life.

SWEEP WALKER: Steel wheel durability and rubber wheels traction. Offset cams produce positive movement in grain. Height adjustment for uneven floors. Greasable bronze bearings.

SWEEP CARRIER: Keeps sweep flightings from "bottoming out" on uneven floors. One carrier is supplied with sweeps for bins 48 ft. and larger. Extra carriers may be added as desired.

SWEEP STOP: Attaches to the inside of the bin wall. Limits the sweep to one revolution.

CASTORING JACK: Easy positioning of the sweep over the center sump.

AUTO ADVANCE I: Auto Advance is highly recommended for all sweeps with tractor drive. Manual monitoring of the system is eliminated, tire and component wear is reduced, and the sweep performs at an optimum BPH for more efficient unloading. Auto Advance controls sweep movement by monitoring sweep motor amperage. When the Sweep is loaded to a pre-set point, the Auto Advance stops the Tractor Drive Wheels. When enough grain is carried away to reduce motor amperage, the Tractor Drive Wheel restarts, resuming sweep travel. Exclusive Auto Reverse senses grain avalanches and backs the sweep out of the pile.
Notice

DO NOT OPERATE THE SWEEP ARM FULLY ASSEMBLED ON THE FIRST PASS UNLESS APPROVED BY THE BIN MANUFACTURER.

DO NOT LEAVE THE SWEEP ATTACHED TO THE CENTER SUMP WHEN FILLING THE BIN. GRAIN WEIGHT ON THE SWEEP MAY PREVENT GATE FROM MOVEMENT, DAMAGING THE SUMP AND/OR SWEEP.