Specifications
Photos
Videos
Installations
Bucket Elevator
Grain Legs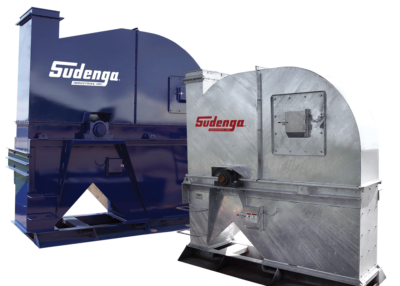 GENERAL

Sudenga bucket elevators offer the value added features that you and your operation demand. Our finish is an attractive, durable blue enamel, with other colors available on request. Hot dipped galvanized finish is available for ultimate long term resistance to the elements.

Trunking sections are designed to provide superb dust and weather tight protection. Sections are jigged and continuous seam welded. Angle iron or plate flanges, depending on the series, are engineered for the job and minimize overlap to prevent the trapping of corrosive moisture or product. 14, 12, and 10 gauge trunking is available. Reinforced inspection stations ensure trunk integrity when removable covers are off.  Inspection ports can be positioned in four different locations by rotating the section and cover, allowing for easier ongoing inspection and maintenance.

Ladder and safety cage are standard galvanized construction. Head service platforms, distributor service platforms and OSHA rest platforms are painted or hot dipped galvanized and come assembled to save valuable time during installation.

All capacities are based on a 75% cup fill or water level plus 10%. Heavy duty polyethylene buckets resist bending, breaking and are lightweight. Bucket vents are standard. Standard SCOF (static conducting, oil resistant, flame resistant) Goodyear Pathfinder "Supreme" rubber belting is "the best there is", and stays flexible in cold weather. PVC belting, belting for high oil exposure, and a variety of cup types are available upon request.
STANDARD FEATURES

Industrial design.
Capacities from 175 to 40,000 BPH.

 

Drum Style Head Pulleys.

 

Pathfinder supreme rubber belting, static conducting, best for oil and flame resistance. Stays pliable in winter.

 

Turned, ground, and polished head and boot shafts, for guaranteed true dimension and straightness.
Durable polyethylene vented cups standard for better cup fill and discharge; increased venting available for light or hard to handle products. Nylon available.
Hinged and gasketed inspection ports, with screens for safety, removable for service access.
Trunking section lengths in 2' increments allow desired discharge height.
Trunking inspection port can be located in 4 locations for operator visibility.
Several trunking brace options accommodate a variety of preferred field assembly methods.
Metal backed urethane or rubber lined discharge and transition standard on 36" diameter and larger, optional on smaller units.
Pre-welded and assembled platforms for quick assembly. Lifting eyes on head sections are standard. Jacking bolts for head shaft alignment standard on 24" and larger.
Jig assembled and continuous welded construction for superior durability and hassle free installation.

 

Blue paint standard. Custom colors available. Hot dipped galvanized or sheet metal galvanized construction optional.

 
CAPACITIES

Series

Model

BPH

CFPH

Ton/hr
(60#/cf)

Ton/hr
(70#/cf)

Maximum Discharge Height

'C" Series
C-175-6-1.25

C-500-6-1.25

C-800-6-1.25

175

500

800

220

630

1,000

6.6

18.9

30

7.7

22

35

60′

60′

60′

Junior Series
JR-1000-12-1.75*

JR-1250-12-1.75

JR-1500-12-1.75

JR-3000-12-1.75

1,000

1,250

1,500

3,000

1,250

1,565

1,875

3,750

38

47

56

113

44

55

66

131

90′

90′

90′

88′

DC 12″ Series
DC1200-2000

DC12-3000

2,000

3,000

2,500

3,750

75

113

87

131

98′

88′

Medium 24″ Series
M-2600-24-203

M-3000-24-203

M-3500-24-203

2,600

3,000

3,500

3,250

3,750

4,375

100

113

132

114

131

153

200′

176′

150′

Medium 30″ Series
M-4000-30-203

M-4500-30-203

M-5000-30-203

4,000

4,500

5,000

5,000

5,625

6,250

150

169

188

175

200

219

196′

174′

158′

Senior 36″ Series
SR-5000-36-307

SR-6500-36-307

SR-7500-36-307

SR-10000-36-307

5,000

6,500

8,000

10,000

6,250

8,125

9,375

12,500

188

245

281

375

219

284

328

437

210′

210′

180′

158′

Senior 42″ Series
SR-10000-42-307

SR-12500-42-307

SR-15000-42-307

10,000

12,500

15,000

12,500

15,625

18,750

375

469

563

437

546

656

198′

158′

132′

Senior 48″ Series
SR-12500-48-307

SR-15000-48-307

12,500

15,000

15,625

18,750

469

563

546

656

210′

168′

Hi-Cap 24″ Series
HC-4300-24

HC-5200-24

HC-6000-24

4,300

5,200

6,000

5,375

6,500

7,250

162

196

219

189

229

256

184′

152′

132′

Hi-Cap 30″ Series
HC-7500-30
8,000
9,060
203
317
132′
Hi-Cap 48″ Series
HC-17500-48

HC-20000-48

17,500

20,000

21,875

25,000

656

750

765

874

188′

190′

*Soft Dump Series
Capacities are based on 75% cup fill.

View printable PDF here
SPECIFICATIONS

View the complete specification chart here.
Painted, Sheet Metal, or Hot-Dipped Galvanized?

Did you know Sudenga offers three different types of finishes on our bucket elevators? Painted, sheet metal galvanized and hot-dipped galvanized. When we offer these choices to the customer we are frequently asked, "What's the difference?" Our response involves a conversation about what is important to the customer.

PAINTED FINISH: 

Painted is often the lowest cost finish available. Sudenga's standard painted color is blue enamel. (Custom colors, including white, gray, red and almond are available by request for a small additional fee.) The Sudenga paint process utilizes a wet electrostatic process that washes the fabricated component, primes, and then covers the part with two coats of wet polyurethane paint that then goes through an oven to bake it all on. This provides a finish that covers well and is durable and attractive. Paint can have a shorter life than galvanized finishes however, so it may be necessary to repaint a painted finish leg for cosmetic reasons before it wears out mechanically.

SHEET METAL GALVANIZED FINISH: 

A sheet metal galvanized finish on your bucket elevator is a cost-effective way to get many of the benefits of a galvanized finish, without the extra steps of sending the fabricated components out to be hot-dip galvanized.  Essentially, the elevator leg is fabricated at the factory out of pre-galvanized material.

Inevitably subassemblies need to be welded together. Things like leg trunking flanges, or inspection doors are almost always welded on. In the case of sheet metal galvanized fabrication, the welding process burns off the pre-galvanized finish in the area of the weld, which later needs to be painted over in that area with a zinc rich paint.  Zinc rich paint coats the surface of the weld, but does not chemically bond to the weld/metal like a hot-dipped galvanized finish. This is an area one may see rust in the long term because this paint, though rich in zinc, doesn't weather as well as the integrated galvanizing.

To avoid the hassle of welding, then touching up galvanized material, often manufacturers will choose to bolt or rivet subassemblies together as much as possible. This mechanical fastener type connection is relatively quick and easy for the manufacturer, but is typically considered lesser quality than a welded seam when it comes to elevator leg construction methods. Welding a seam often seals up a crack in a connection point that would be open in the case of a mechanical fastener connection. Dust can settle into that mechanically fastened seam, wicking in moisture that eventually can contribute to corrosion of the metal at that point.

HOT-DIPPED GALVANIZED FINISH: 

Hot-dipped galvanized finish is often slightly more expensive than a sheet metal galvanized finish, but the tradeoff is worth considering as the benefits are numerous. With the hot-dipped galvanized finish choice, the components of the elevator leg are fabricated and welded, then sent off to be dipped in molten zinc. (Molten zinc makes up the galvanized coating.) Dipping the parts after they are fabricated essentially seals up all welds, and coats everything, inside and out, in a thick coating of zinc. The steel in hot-dipped components forms a chemical bond with the zinc. This coating ensures that any scratch or ding that might get to bare metal is protected, as the properties of the zinc finish around the scratch "sacrifices" itself over time. This essentially seals the scrape off, not allowing the damage to rust or grow further.  It should be noted that because fabricated components are dipped into a bath of very hot molten zinc, it is not uncommon for lighter gauges of steel to develop a slight wave on the larger flat faces of some leg trunking sections. This is generally cosmetic only and Sudenga's hot-dipped legs are designed and quality checked prior to shipping with this possibility in mind.  It is wise however, to make end customers aware of this characteristic so they can decide if the long term-durability of a hot-dipped finish is more important than any subtle cosmetic concerns.

Ultimately, Sudenga Bucket Elevators are offered in these three finishes because every buyer and application is different. Let what is most important to you drive this decision. The choice is yours.
Project Photos & Layout Ideas
BUCKET ELEVATOR CALCULATORS & GUIDES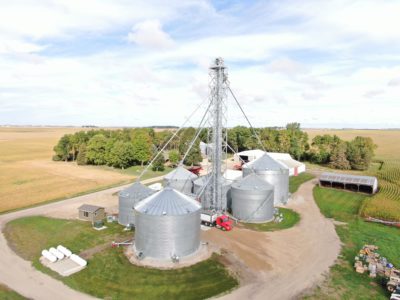 Check out this Luverne, MN farm site featuring two Sudenga bucket elevator systems, a Hi-Cap 24″ and a Medium 24″
Read More