Sudenga Industries' reputation for service, innovation and durability has humble roots. Founded in 1888 by a German immigrant, Folkert Sudenga, we originally opened our doors as George, Iowa's first blacksmith shop. Throughout the generations, Sudenga turned from blacksmithing to manufacturing, which was born from local farmers' desires for "labor saving devices."
Today, Sudenga Industries engineers and builds products that embody the durability of our blacksmithing roots and demonstrate the innovation that comes from decades of experience in manufacturing industry-leading agricultural equipment.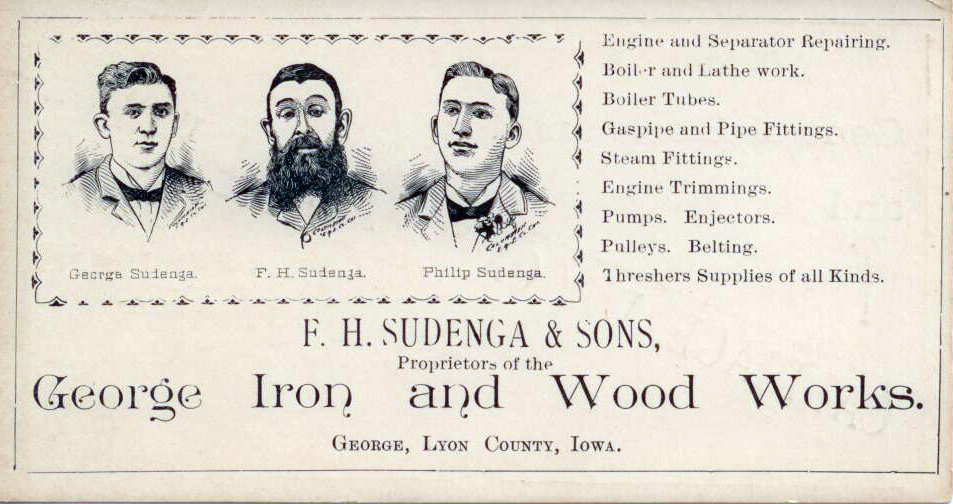 THE JOURNEY FROM A BLACKSMITH SHOP TO A MANUFACTURING FACILITY
Seeing a need for the services of a blacksmith, German Immigrant Folkert Sudenga opened the doors of his blacksmith shop in the summer of 1888 on main street George, IA. Calling his small shop the George Iron and Woodworks, Sudenga provided area farmers with shoes for their horses and replacement parts for their wagons.  The business took hold and Sudenga's sons Philip and George eventually joined their father in the shop in the early 1890's. With the addition of the sons, the business grew. The Sudengas became know for reliable solutions to the inevitable equipment problems that arose for early area farmers. In 1898, the Sudengas produced a trip hammer, which was the first item to ever be manufactured in George.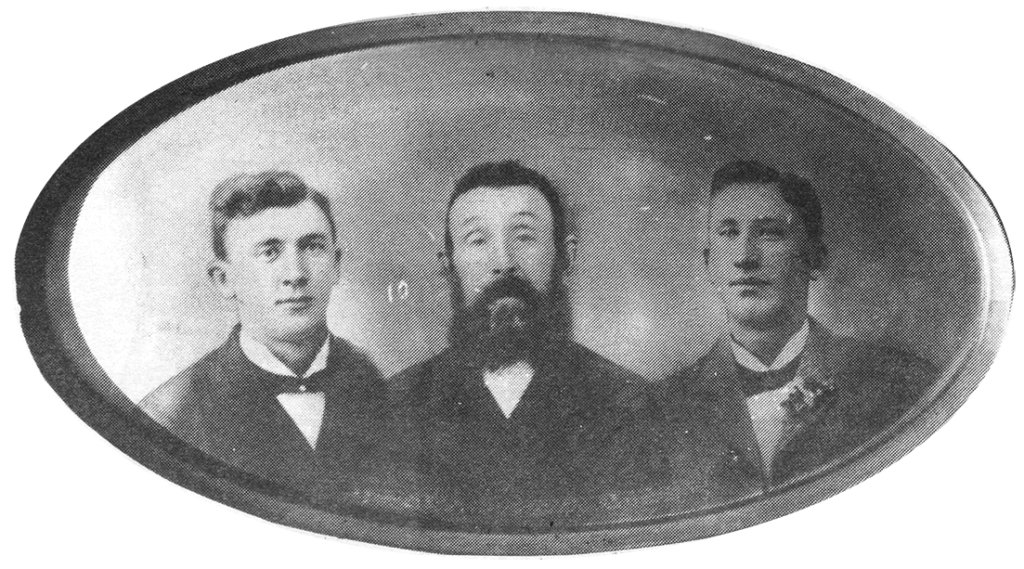 By 1902, Folkert's sons George and Philip had taken over the business from their father and renamed it Sudenga Bros. While continuing in blacksmithing, the enterprising brothers also expanded their manufacturing services and added a Ford dealership. Sudenga Bros. steadily increased business even through the depression years. In 1920, Philip sold his interest in the automobile business to George, and built his own building for his business he called the Sudenga Welding Plant. Phillip's sons Floyd and Jay Sudenga grew up helping their father with his business. Business was good and it grew steadily. As Philip's health was failing, his sons joined their father in ownership on January 1, 1945. That same year, the business suffered a devastating fire. The Sudenga's rebuilt, pushing even harder for growth. At the request of a salesman at Sudenga Motor Co., Sudenga Bros. began manufacturing a rear end loader for the Ford Ferguson tractor. In 1946, due to the success of this manufactured product, the Sudengas switched entirely to manufacturing.
Most ideas for products came from local farmers' desire for "labor saving devices." Some of the first products included a front end tractor J&S Wire Winder combined with a portable sawmill and table miter saw (1946), wagon box tie downs and extra clutch for live power takeoff for Allis Chalmers tractors (for Dethmers Implement of Boyden, IA. 1947), corn picker blowers (1948), side wagon hitches for combines, and an AC Augerator for Allis Combine (1949).  4" and 5" augers called the "Augerator" were developed in 1950, advertising "throw away your scoop, use an Augerator." Standard wagon gears and E-Z Bak wagon gears were developed in 1951. In 1955, Sudenga Iron Works, which they were now called, bought out the auger equipment from B&O Manufacturing of Columbus, NE and started manufacturing transport augers.  Additionally, Sudengas became involved in the manufacture of a "correspondence lift" for banks and offices, as well as a product called the Tattle Tale Mail Box Signal.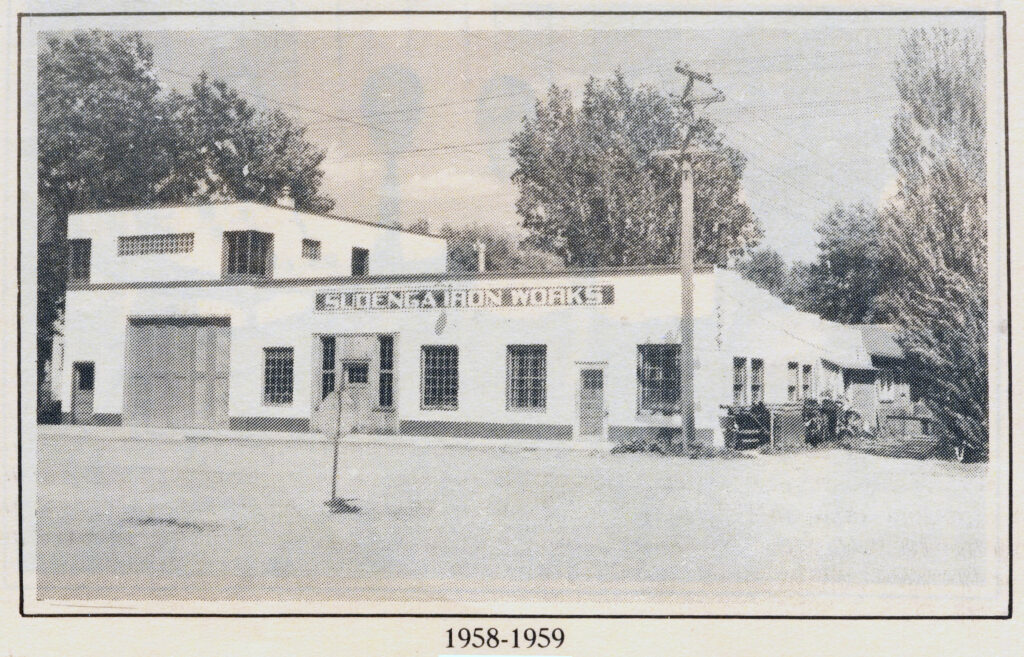 In 1957, Sudenga Iron Works developed their first bulk feed bodies. After beginning the manufacture of these large machines, space was short and a decision was made in 1958 to move to Sudenga Industries' current location 1 mile northeast of George, IA. In 1959, a large facility was constructed and an open house was held for 2,000 people. The business was now in full production of grain handling equipment and bulk feed bodies, employing 30 to 50 men.
The business became Sudenga Industries in 1962, when it was incorporated by Floyd and Jay Sudenga and their families. Despite some recession years, the business steadily grew by continually improving existing products and releasing new and innovative products. In April of 1970, and again in 1975, Sudengas was victimized by fire. Each time, true to form, Floyd and Jay rebuilt, making improvements, enlarging the facility and forging ahead.
In 1976, after over thirty years in business, Floyd and Jay Sudenga made the decision to retire. The business was sold to five key employees. Able to draw on a virtually unmatched tradition of product development for the agricultural industry was (and still is) Sudenga's strength, and demand for Sudenga products increased. Product lines were expanded to meet this demand, eventually growing to include one of the broadest lines of grain, seed, fertilizer and feed handling equipment in the industry.
OLD PHOTOS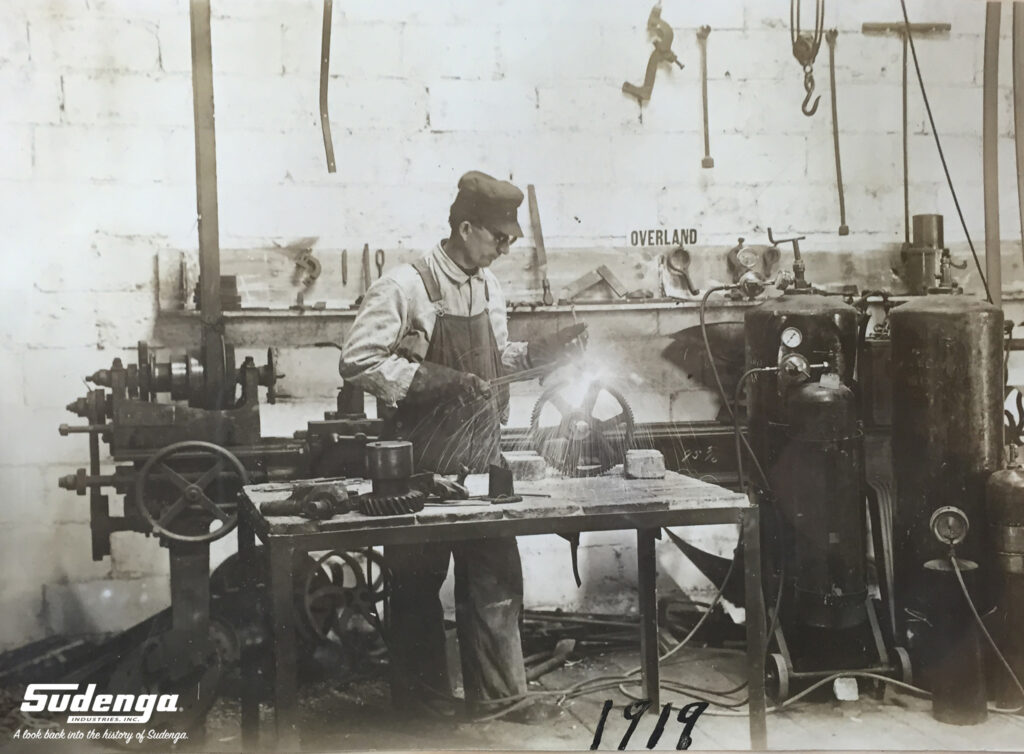 Philip Sudenga, son of founder Folkert Sudenga, was the first to use gas and oxygen welding equipment in Lyon County and one of the first in Northwest Iowa. This photo was taken in 1919.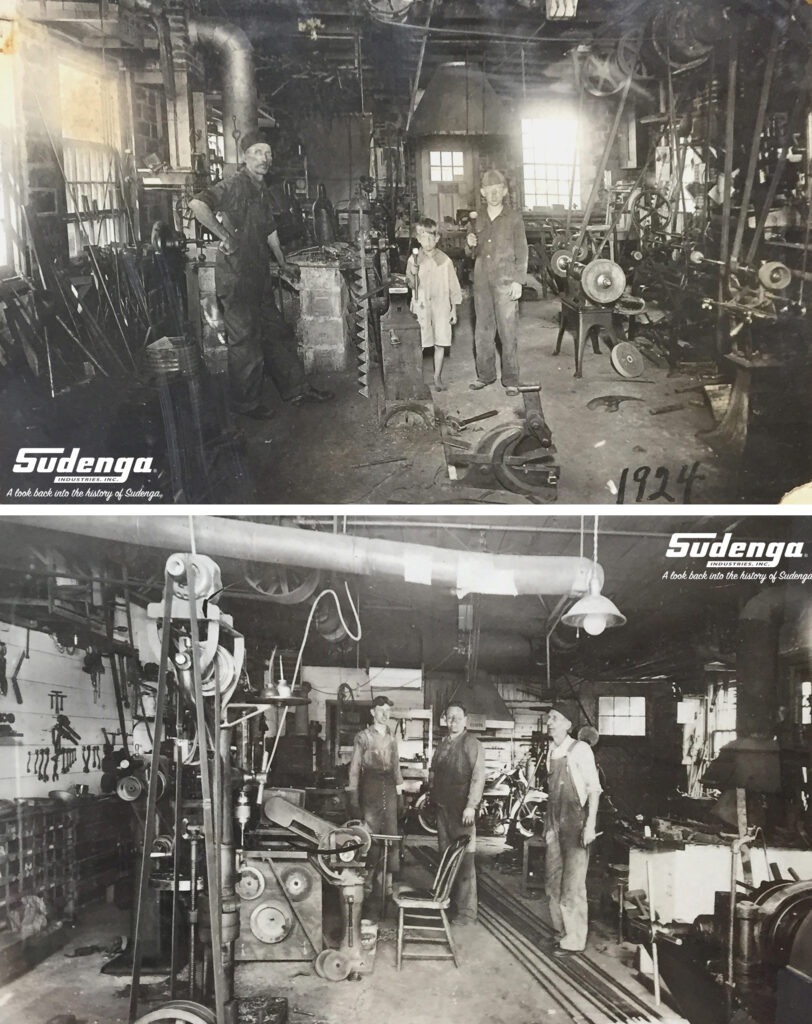 Here are two photos, taken 15 years apart, of the Sudenga blacksmith shop. Pictured are Philip Sudenga (son of founder Folkert Sudenga) with sons Floyd and Jay.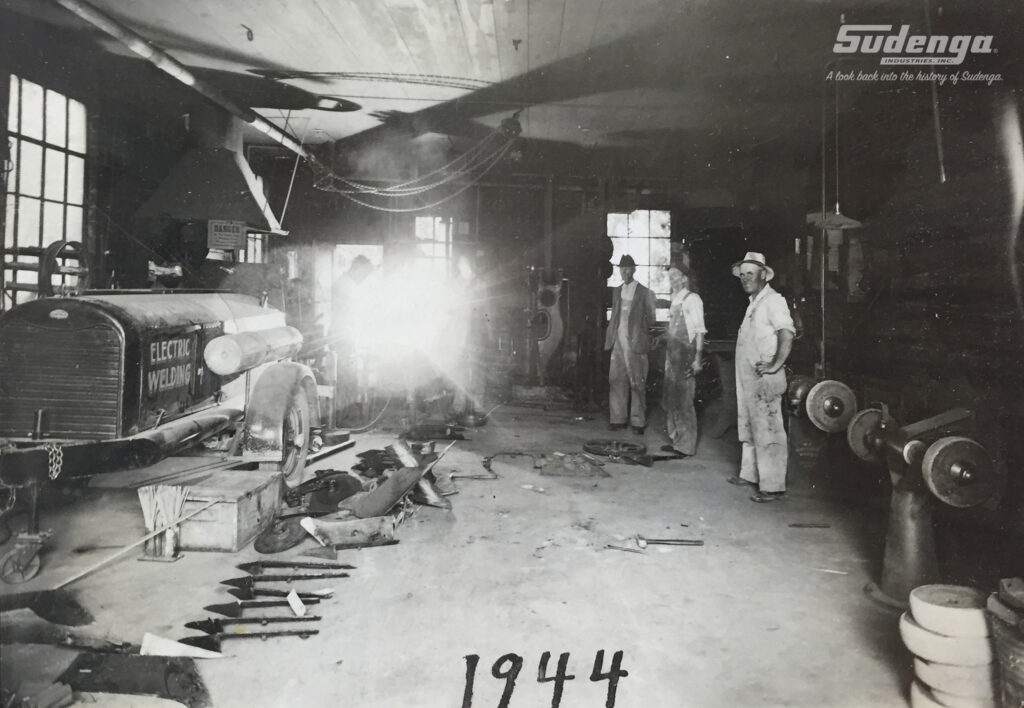 This photo, taken in 1944, shows the addition of the electric welding machine to the blacksmith shop. Pictured are Floyd Sudenga (welding), Jack Heitritter, Philip Sudenga and Jay Sudenga.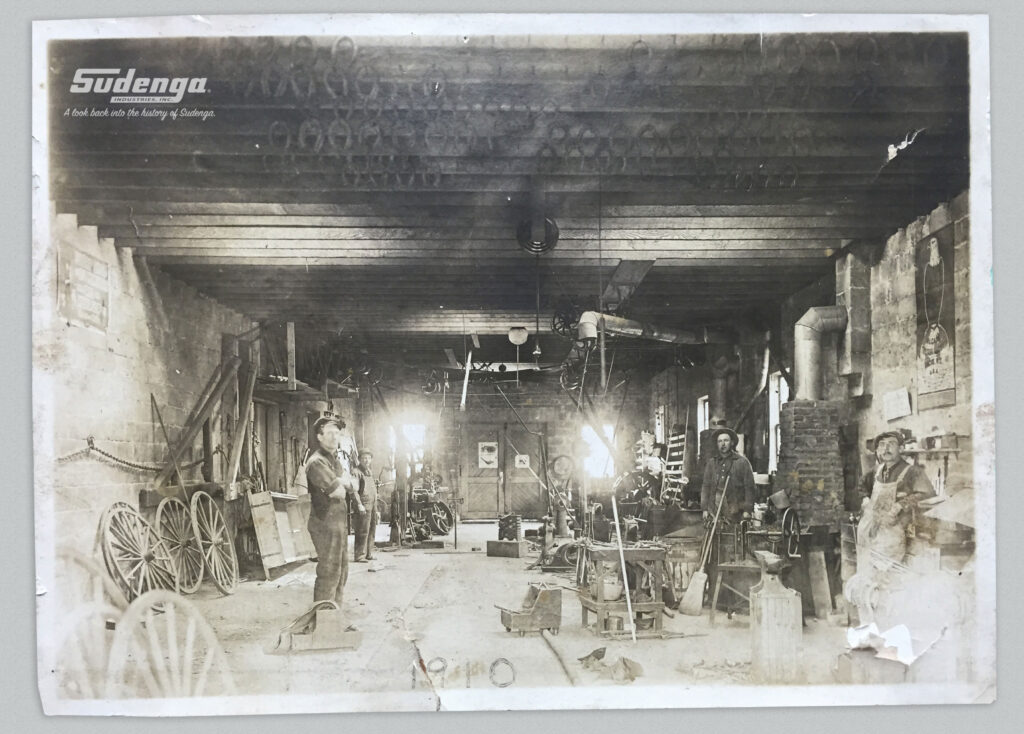 This photo was taken in 1910 on the west side of Sudenga Bros. located in the main business district of George, Iowa. Pictured from left is Philip Sudenga, Elmer Keck, unknown, and George Sudenga. George and Philip Sudenga added the Ford dealership, Sudenga Bros., to their existing ironwork and manufacturing business in 1909. The east side of the shop functioned as the dealership and the west side was the blacksmith shop. In 1920, Phillip Sudenga sold interest in the Ford Dealership to his brother George and built his own building called the Sudenga Welding Plant.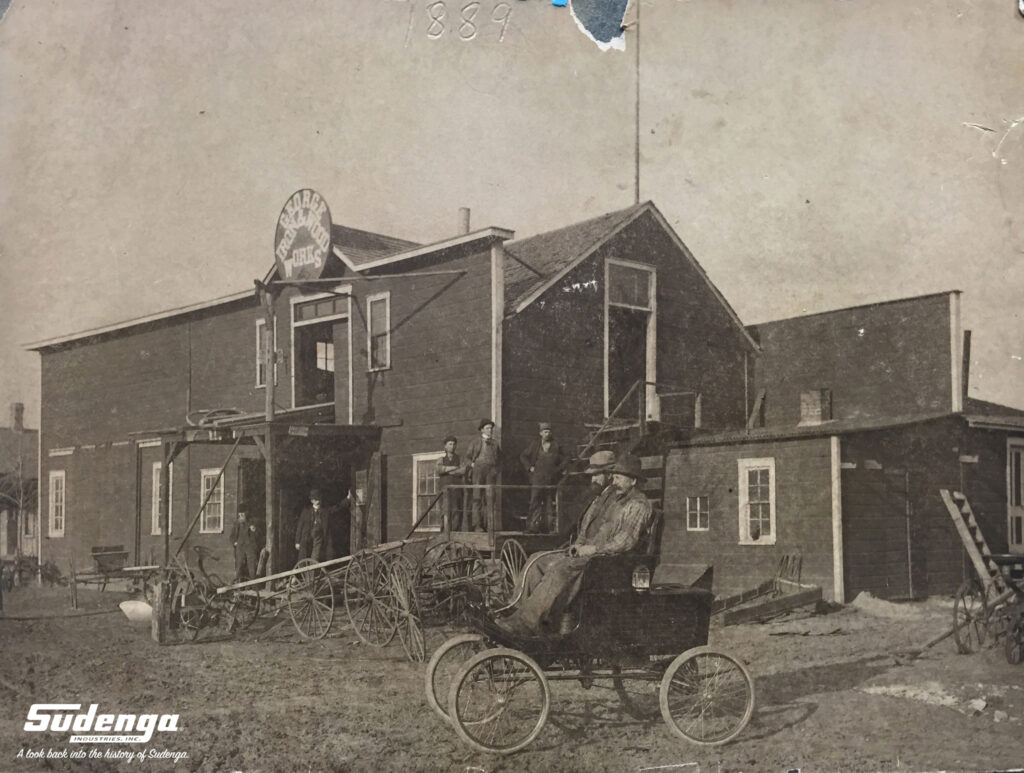 The start of Sudenga Industries – In 1882 Folkert Sudenga, along with his sons Philip and George, migrated over from Germany. They settled in Illinois where they opened a blacksmith shop. Four years later they moved to George, Iowa and built George Iron & Wood Works (pictured). They started work in 1888. Sudenga Industries still calls George, Iowa its home today. This photo of George Iron & Wood Works was taken in 1889. According to the photo, pictured from left to right are: Grandpa Spieker, Charles Schroeder, Philip Sudenga, Alvin Carter, George Sudenga, Carl Miller and Elmer Keck.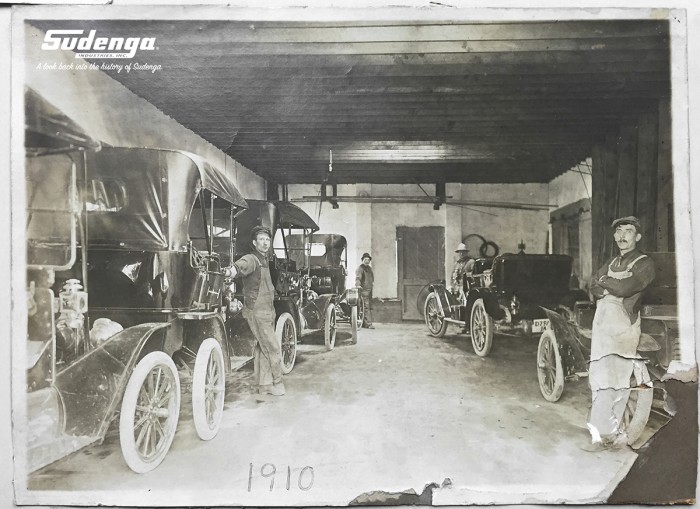 In the early 1900s company founder Folkert Sudenga's sons, George and Philip, added a Ford dealership called Sudenga Motor Company to the existing blacksmith shop called Sudenga Bros. The Ford dealership portion was run out of the east side of the building and the blacksmith shop was run out of the west side. In 1920, Philip sold his interest in the automobile business to his brother George and built his own building called the Sudenga Welding Plant. Here are a couple photos from the Sudenga Motor Company portion of the business. It was the second Ford Agency in the state of Iowa and the 26th in the nation. Pictured front left is Phillip Sudenga, front right is George Sudenga. Elmer Keck can be seen in the background to the left and the other person is unknown.